Looking for a spot of lunch on West Bank, New Orleans? We've got you covered with six of the best.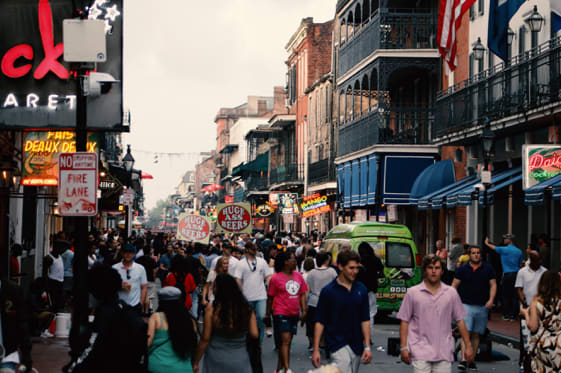 New Orleans is known for its renowned nightlife, live music crowding the streets, top tourist attractions, and of course, the authentic cuisine. With such a wide variety of lunch spots to choose from on the West Bank, we've gathered together some of our favorites.
Whether you're interested in trying some authentic food from New Orleans, food from around the world, or the classic American cuisine, West Bank, New Orleans has it all. From Frosty Café to Dimartinos, here are some of the best lunch spots on the West Bank to enjoy.
1. Frosty Café 
This relatively small café on West Bank is known for their bubble teas, smoothies, spring rolls, and other Vietnamese snacks. With takeout available, and unbelievably cheap prices saying no to Frosty's café should be a crime.
2. Dimartinos
In one of four locations spread out across New Orleans, Dimartinos is the place to go for a real, authentic taste of New Orleans. With popular dishes including Gumbo, red beans and rice and specialty sandwiches such as the turkey Giardiniera, you're spoilt for choice and most likely drooling just thinking about it.
3. Wags food & Culture 
Wags is the perfect mix between authentic cuisine and a Sunday afternoon of delicious pancakes. With popular dishes such as shrimp stew, crawfish fettuccini, and, of course, the ever so traditional BBQ chicken, pancakes, and baked chicken you really do have plenty to choose from.
4. Banana Blossom 
Banana blossom is a Thai restaurant also serving popular non-Thai favorites such as curries, rice dishes, and noodles. Opening it's doors back in 2009, Banana blossom shares flavors from around the world, with their main focus, of course, on Thai food. Popular dishes include the lamb Panang, coconut shrimp, larb gai, and spicy green mussel inspired by New Zealand.  
5. New Orleans Food & Spirits
Serving American seafood, Cajun and Creole alongside their list of regular specials you'll feel at home from home here. With a 4.5 star average review on Trip Advisor, consistent praises for the excellent ambiance and food, you're in for a real treat at the New Orleans Food & Spirits at West Bank.
6. Café 615
Feeding friends and neighbors since 1948, and home the iconic Bugs Bunny themed signed, Café 615 has some of the favorite New Orleans authentic dishes you'll find, especially in West Bank. Popular dishes include fried artichoke hearts, the seafood platter, Louisiana crawfish pasta dishes, and the crab meat-stuffed fish.
The bottom line
If you happen to be visiting West Bank, New Orleans, or perhaps already have an apartment there then you ought to check out these 6 best lunch sports. With plenty to choose from and a mix of different cuisines available, some of which are International, you're spoilt for choice and soon to be indulging in some of the world's finest and most authentic dishes.